2022 Montague Soapbox Race Results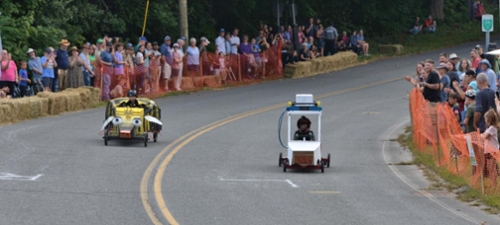 Carts coming down the First Street hill in TF, MA
The 2022 Montague Soapbox Derby got off without a hitch under glorious blue skies and mid to upper 70s temperatures. We had twenty competitors geared up and excited to go down the 1st Street hill to shouting spectators lined up in Unity Park.
We had many racers return from previous years, including: Quill Bullock (kids) who won 3rd place last year in the kids division and 2nd place this year; Elijah Eckert (kids) who came in 5th last year and 3rd this year, improving his time by a full ten seconds; Sean Hilliard (adults) in the Turtilladilla cart who came in 5th last year and 2nd this year; Cameron Freeland in his Gillbilly Delux cart, who came in 7th last year and 4th this year; Leslie Jackson, 77 yrs old, who came in 11th last year and 6th this year; Josh Blier in the CRMO Awareness Cruiser, who came in 13th last year and 7th this year, despite his near wipe-out after the long left curve; fire fighter Luke Hartnett who came in 9th last year as well as 9th this year; Ben Goldsher and his girlfriend Kate in the Hawks & Reed cart, who came in 12th last year and 10th this year.
Three racers had spills, the most spectacular of which was by teen division "Troll Pride" racer Lia Little whose steering failed and she careemed to the right on the initial downhill straightaway, rolling her cart into the tree-belt. Ms. Little was pretty shaken up, but after her cart was loaded into one of the ATVs and she took the passenger seat, she was greeted by a standing ovation by everyone at the bottom of the hill, greeted like the Queen. Checking in with the medics, she was deemed to have just have a skinned knee. Adult division racer Shane Jackson also rolled his cart in almost the same spot, but got out of the cart and stood up with a hands up victory jump in the air, covered head to toe in protective gear and not a scratch.
For the first time, all racers were from Massachusetts, coming from Greenfield, New Salem, Erving, Northfield, Orange, Wendell, Gill, Amherst, and of course Montague / Turners Falls.
On the stage we had Russ Brown as our Race Announcer, assistant rec director Jen Peterson as the Official Race Recorder, Rep. Natalie Blais and WRSI morning personality Monte Belmonte as our "Style Judges." They always bring the fun.
The race committee consisted of Peter Chilton of NOVA Motorcycles, Seth Rutherford of 253 Farmacy, Mik Muller of Montague WebWorks, and Jon Dobosz, Montague's director of the Recreation Department, for whom the race was a benefit for, and in the final weeks Dan Burke The Cart Guy, who was of immense help with the stage and ramps. Steve Ellis, Montague's Town Administrator, helped as well and is responsible for getting the derby back up from the ashes of the first runs between 2010-2013.
The race committee thanks our primary sponsor GREENFIELD SAVINGS BANK, and specifically John Howland, who has been a champion of the soapbox races in our area. Turners Falls Airport also donated money and lent us the professional walkie talkie radios. NOVA Motorcycles gave of their time and resources including the posters and the venue for cart inspections, as well as Facebook marketing. Montague WebWorks provided the scales, hosted the website, did promotion, and provided historical knowlege. Hale Custom Signs donated a portion of the lawn signs and updated the 10' banner adorning the announcers stage. Greenfield Solar donated their solar truck for power -- the whole event, including the Public Address and MCTV's cameras were powered by their solar truck! Lastly, we thank Paul for the PA system, and all the volunteers, including the large crew from 253 Farmacy. We would also like to thank Montague Community Television (MCTV) who took three-camera video of the whole event. Thank you all!
Racer Times and Places
AGE
PRIMARY DRIVER
SECONDARY
NUMBER
HEAT 1
LANE
HEAT 2
LANE
TOTAL
PLACE
CITY
STATE
VEHICLE
TEAM
KIDS DIVISION
12
Hugo Taggert
5
21.58
L
22.38
R
43.96
1
Greenfield
MA
Speeding Scouts
Troop 5 (Boy Scouts)
8
Quill Bullock
2368
24.37
L
24.08
R
48.45
2
Greenfield
MA
ECTO-1
Soapbox Busters
10
Elijah Eckert
77
25.33
R
24.37
L
49.7
3
New Salem
MA
The Queen
Carpenter Bees
TEENS DIVISION
14
Jenna Petrowicz
56
26.44
L
26.39
R
52.83
1
Erving
MA
Fast little Indian
16
Gage Stanislawski
Anthony Arabia
24b
28.41
R
29.28
L
57.69
2
Turners Falls
MA
TFHS1
TFHS
14
Alex Scotera
141
29.12
R
29.06
L
58.18
3
Greenfield
MA
Speeding Scouts
Troop 5 (Boy Scouts)
17
Andrew (AJ) Fisher
Zach Keeney
24a
30.7
L
30.89
R
61.59
4
Turners Falls
MA
TFHS2
TFHS
13
Lia Little
4
DNF
L
Turners Falls
MA
Troll Pride
ADULTS DIVISION
20
Brian Bodenstein
411
22.71
L
22.81
R
45.52
1
Northfield
MA
Bodie Brothers Racing
28
Sean Hilliard
0
22.51
L
23.06
R
45.65
2
Orange
MA
The Flying Hammers
Turtilladilla
57
Alistair MacMartin
78
23.58
L
24.25
R
47.83
3
Wendell
MA
Tinman Racing
Tinman Racing
34
Cameron Freeland
16
24.03
R
23.97
L
48
4
Gill
MA
Gillbilly Delux
Freeland Racing
29
Sam Stevens
2
24.75
R
24.3
L
49.05
5
Montague
MA
Archimedes
Montague Clean Water Facility
77
Leslie Jackson
57
24.54
R
24.59
L
49.13
6
Turners falls
MA
Purple
Jackson
35
Josh Blier
86
24.9
L
26.17
R
51.07
7
Gill
MA
CRMO Awareness Cruiser
Team CRMO
38
Matthew Risch
1+1
26.64
R
25.5
L
52.14
8
Greenfield
MA
Tolby
1748
42
Luke Hartnett
35
27.65
L
28.65
R
56.3
9
Millers Falls
MA
Tricky Trike
Fire Department
31
Ben Goldsher
34
33.24
L
33.84
R
67.08
10
Greenfield
MA
The Hawk
Hawks & Reed
24
Fabricio Yunga
97
DNF
R
Amherst
MA
F40
Poison Ivy
51
Shane Jackson
71
DNF
R
Turners Falls
MA
Jackson
STYLE WINNERS
28
Sean Hilliard
0
Most Funniest Cart
Orange
MA
The Flying Hammers
Turtilladilla
12
Hugo Taggert
5
Most Traditional Cart
Greenfield
MA
Speeding Scouts
Troop 5 (Boy Scouts)
10
Elijah Eckert
77
Best Paint Job
New Salem
MA
The Queen
Carpenter Bees