2010 Montague Soapbox Race Results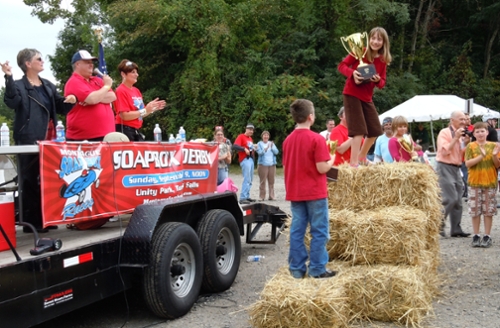 The first annual Montague Soapbox Races was a raging success. About 1600 people came out on a beautiful Sunday afternoon to see 27 carts go down the 1st Street hill in Turners Falls, Massachusetts, September 19th, 2010. Two additional carts were entered but deemed too unsafe by their drivers and were put on display instead -- both pieces of art in their own right.
In the end, after weeding out the two unsafe carts, and four no-shows we had 27 racers in three divisions: kids, teens and adults. We learned a lot about how to handle the number of cars, and the number of spectators. We also learned about how high up the hill to start the kids -- the first three kid carts had to run again since they couldn't reach the finish line.
With only five food vendors this first year, the lines were long, but still the vendors were quite happy. We hear that the hotdog vendor sold out all his food in two hours! The Rendezvous, who ran the Beer Tent with Narraganset, went through three kegs and 100+ hamburgers. More stories are emerging about this fabulous day in Montague. Next year will only get bigger.
MCTV had four cameras running during the event, and are now selling the collector's DVD online. Look for a notice soon. This race being a fund-raiser for Montague's public access TV station, we hope everyone who raced purchases a copy.
Race Photos
Race Results
Many multiple thanks to all the people who helped tracking and recording each Racer's time, speed and style results, including Russ Brown, Patricia Allen, State Senator Stan Rosenberg, Deb Borbeau, Bob and Wendy Bogusz, Mandy Hampp, Doug McIntosh, Kevin McCarthy, Mike McAuliffe, Linda Ackerman, Dr. Mark Allen, Mike Burek, Jack Nelson, and Greg Garrison! There were many other people helping as well, but these were the folks who handled and recorded the Racers directly.
We had 27 Racers run down the hill. Winners were chosen by their best time. Ties were broken by speed in a particular heat.
Kids Division (12:15 PM)
The Kids Division was the first to run, and after the first three racers to go down the hill (Chelsea, Thor and Ivy) didn't even reach the finish line it was determined that the starting line should be moved up the hill about 15 feet so they could gain more speed. After all racers ran from this new starting line it was also determined that the finish line should be moved closer, thus the shorter run in the second heats.
Place
RacerID
Name
Age
City
State
1st Heat
2nd Heat
Time
Speed
Time
Speed
1
30
Ivy Muller
10 yrs
Montague
MA
29sec
17mph
19sec
17mph
2
5
Chelsea Curtis *
8 yrs
Turners Falls
MA
35sec
13mph
19sec
16mph
3
34
Sean Damon
8 yrs
Northfield
MA
31sec
16mph
20sec
16mph
4
24
1. Ross Damon
2. Matt Damon
12 yrs
Northfield
MA
40sec
14mph
24sec
14mph
5
33
Robin McGowen
Northfield
MA
47sec
12mph
24sec
14mph
6
8
Thor Mead
8 yrs
Turners Falls
MA
50sec
12mph
28sec
13mph
* Chelsea's cart also won 2nd place in the Style Division
Teens Division (1:00 PM)
Place
RacerID
Name
Age
City
State
1st Heat
2nd Heat
Time
Speed
Time
Speed
1
16
Ezra Ward
17 yrs
Montague
MA
21.5sec
27mph
21.2sec
27mph
2
13
Logan Turner-Renaud
15 yrs
Dummerston
VT
23.8sec
24mph
23.6sec
25mph
3
6
Kyle Bry *
10 yrs
Montague
MA
23.7sec
24mph
23.7sec
24mph
4
27
Zayd Alizera **
17 yrs
Saudi Arabia
24.9sec
23mph
24.7sec
24mph
5
11
Craig Bodell
13 yrs
Gill
MA
28.9sec
21mph
27.7sec
22mph
* Although 10 yrs old, Kyle Bry raced in the teen division.
** Student at Linden HS, Northfield, MA
Adults Division (1:45 PM)
Place
RacerID
Name
Age
City
State
1st Heat
2nd Heat
Time
Speed
Time
Speed
1
28
Joe Landry *
65 yrs
Turners Falls
MA
28.4sec
33mph
28.5sec
33mph
2
20
Sam Groves
65 yrs
Brattleboro
VT
29.2sec
32mph
28.8sec
33mph
3
10
Chris Raymond
48 yrs
Bernardston
MA
30.2sec
32mph
30.0sec
31mph
4
4
Tim Dowd
21 yrs
Montague
MA
30.4sec
31mph
30.4sec
30mph
5
6
Bill Bry **
42 yrs
Montague
MA
31.0sec
30mph
30.9sec
30mph
6
15
Cody Savinski
24 yrs
Montague
MA
31.8sec
29mph
31.0sec
30mph
7
12
Godfried Turner-Renaud
49 yrs
Dummerston
MA
31.5sec
29mph
32.7sec
29.mph
8
25
David Larue
45 yrs
New Salem
MA
32.3sec
30mph
32.6sec
28mph
9
3
Owen Graves
41 yrs
Turners Falls
MA
32.7sec
29mph
32.6sec
29mph
10
18
John Stewart
54 yrs
Lake Pleasant
MA
32.7sec
29mph
32.7sec
30mph
11
7
1. Michael Becker
2. Ed Becker
35 yrs
68 yrs
Brattleboro
VT
32.9sec
29mph
33.4sec
28mph
12
21
Krista Stoops
37 yrs
Westfield
MA
49.0sec
23mph
39.0sec
25mph
13
9
Katie Kurtyka
22 yrs
Turners Falls
MA
43.95sec
25mph
42.3sec
25mph
14
1
Daniel Kornguth
38 yrs
Brattleboro
VT
51.2sec
23mph
46.8sec
24mph
15
31
John Landino ***
62 yrs
Turners Falls
MA
flipped
120.8sec
17mph
16
14
George Brace ****
40 yrs
Amherst
MA
crash
---
* Joe Landry, the 2010 and 2011 speed record holder of the Montague Soapbox Races, also built John Landino's cart, who flipped and then went on to win 1st place in the Style Division (due to John's accoutriments). Joe also helped build Ivy Muller's 1st place Kids Division cart, with much help from racer John Stewart (who has given his silver bullet cart to Anne Harding, who plans to race it in the 2011 race).
** Bill Bry raced his son Kyle's cart in the adult division.
*** John Landino's "DaDa-ist Invasion" cart, built by Joe Landry (and one of the winner's in Kornguth's Soapbox Derby in Brattleboro, VT) flipped in the first heat when his cape got caught in one of the rear tires. He coasted down the hill with his brakes on in the second heat and won 1st place in the Style Division.
**** George's "Pink Pig" didn't make it around the first bend in the first heat, due to the back-right wheel collapsing. His cart did win 3rd place in the Style Division.