2013 Franklin County Spring Parade
Sunday, April 21st, 2013, 1:00 PM, Turners Falls, MA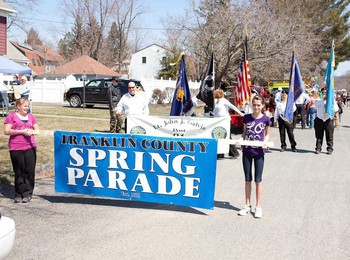 Montague Soapbox Racers to Participate in the Spring Parade in Turners Falls
Racers from the Montague Soapbox Derby and other area derbies will walk and roll in the Third Annual Franklin County Spring Parade, to be held in Turners Falls on Sunday, April 21, 2013.
People should bring their carts starting at noon to Crocker Avenue, between Montague and Davis Streets, in front of Sheffield Elemenary School.
The parade will make a three mile loop, beginning at 1:00 pm at Sheffield School on Crocker Avenue. It will take a left onto Montague Street, travel to the end, and turn left onto Turnpike Road. The parade will go past the Turners Falls High School, and take a left onto Millers Falls Road. At Scotty's Convenience Store, the parade will turn left onto High Street and end back at Sheffield.
The first annual parade was held April, 2011. 700 people marched in the parade and over 4,000 people came out to watch!
Everyone who has a soapbox cart, of any type, and wishes to walk in the parade should contact Mik Muller, Race Director, at (413) 320-5336.
First five people to show up with a cart will receive a free derby T-Shirt. One shirt per cart.
If you have a cart and wish to be pulled in the parade, please make sure you have a strong hook on the front and the back so you can be part of the train.
For more info on the parade go check out their Facebook page, here:
https://www.Facebook.com/MontagueParade
Montague Soapbox Derby 2013 Sign-up forms for both vendors and racers will be made available by the end of April.
---
Posted: to Montague Soapbox Race News on Tue, Apr 16, 2013
Updated: Tue, Apr 16, 2013